Calaveras County Supervisors' Decision On Cannabis Rules Pushed To Next Year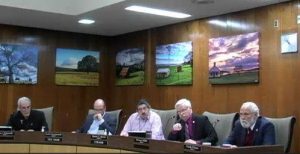 Calaveras County Board of Supervisors cannabis rules specail meeting 12-21-17

View Photos
San Andreas, CA — After a long and at times intense second meeting this week regarding passing a permanent ordinance to replace the county's urgency ordinance on commercial cannabis grows set to expire early next year in Calaveras County, the Board of Supervisors punted again – kicking a final decision into the New Year. (Click here for an earlier story detailing Tuesday's special meeting.)
Thursday's special meeting lasted almost nine hours with plenty of public comment and squabbles between the five supervisors. In the end, the board voted 3-2 to direct staff to recraft a regulatory version draft with direction provided by the board and bring back the draft alternative of an all-out ban at a future date. District 1 Supervisor Gary Tofanelli and districts 4 and 5, Dennis Mills and Clyde Clapp, all voted in favor while Board Chair and District 3 Supervisor Michael Oliveira and District 2 supervisor Jack Garamendi opposed.
"We have really created a 'Frankenstein' here guys," stated Garamendi. Shaking his head, he went on to counter, "Just because you put a tutu on it isn't going to make it into a ballerina. This is not a functional ordinance that we are going to be reconsidering."
With the meeting being moved into the next year that means Board Chair Oliveira will be replaced at the next scheduled board meeting, which is January 9th a day before the special meeting will take place. Oliveira addressed the crowd, "I want to personally thank you, every member of the public that attended our meetings during this last year. I want to thanks staff and board members. In trying times, I'm glad to see that we go forward in the same direction most of the time. I want to really impress upon you that I enjoyed my time as chair and it's been a very rewarding experience for me."
The next cannabis special meeting is set for January 10th at 9 a.m. in the supervisors chambers at the government center in San Andreas.