Mother Lode Gets Early 'White Christmas' Glimpses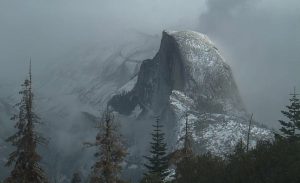 Yosemite Conservancy webcam view of Yosemite Half Dome from Sentinel Dome captured Dec 20 2017 just before noon.

View Photos
Sonora, CA – Shortly before noon vestiges of a fast-moving overnight storm still drifting through southern portions of the Sierra Nevada are dusting parts of the region.
Capturing a holiday card-worthy image of Yosemite Half Dome and surrounding high country from Sentinel Dome, a live Yosemite Conservancy webcam recorded snow showers still swirling at 11:51 a.m. The view might well be this year's best shot of a nearly "white Christmas."
Associated Press reports that this latest storm generated 100-plus mile-per-hour winds in parts of the Sierra Nevada that brought power outages to the Reno area. The rest of this week through Christmas Day looks sunny but noticeably cooler with daytime highs gradually warming from the 50's to around 60 degrees F with overnight lows at freezing to about 40 degrees. For the latest weather forecast, click here.
Caltrans officials say the overnight snow fell to the 3,500-foot elevation level in some parts of the Mother Lode. Long Barn Maintenance Supervisor Chris Baker shared a few images of snow removal operations this morning that are viewable in the image box slideshow.
Motorists traveling where the work is still going on should maintain a safe distance between their vehicle and Caltrans equipment and only pass when the whole roadway ahead is visible.
In the noontime hour Caltrans postings read that on Highway 108 chains or snow tires are required from Long Barn to the pass closure at Kennedy Meadows; on Highway 120, chains necessary on all vehicles except four-wheel drive vehicles with snow tires on all four from 15 miles east of Groveland to the Yosemite National Park boundary (after which chains are required in the park). Too, carrying the same requirements as for Highway 120 is Highway 4 from Arnold to the pass closure at the Mt. Reba turnoff. Click here for the latest chain conditions.