Cooler Temps Raise Concern For Pipes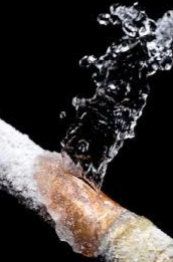 Broken pipe

View Photos
Sonora, CA: Tuolumne Utilities District (TUD) is alerting customers that the freezing digits overnight the next couple of days could have an impact on pipes.
With the National Weather Service predicting colder temperatures for the Mother Lode starting tonight and possibly reaching into the 20's into the week, TUD wants to remind customers of some precautions that can be taken to prevent pipes from freezing:
Insulate Exposed Pipes, Faucets and Pipes Prone to Freezing:
Outside pipes and faucets, and pipes in unheated garages and crawl spaces are most vulnerable to freezing weather. To prevent pipes from freezing, wrap them with insulating material. Cover them with plastic and secure with tape, string, or wire. Also, remember to disconnect garden hoses.
Locate Your Main Shut-Off Valve:
Don't wait for an emergency. Find your main water shut-off valve now! If a pipe breaks, you can stop excessive water loss and flooding by turning off your main water shut-off valve. It is commonly located next to the meter, in the garage, or outdoors by the foundation. Test the valves by turning the handle to be sure it is working properly and identify it with a tag. If a main shut-off valve does not exist, it is worth having one installed now by your plumber.
What to do if a Pipe Freezes?
Never thaw with an open flame. Open the faucet first. Start by warming the pipe as close to the faucet as possible working toward the coldest section of the pipe. Apply heat slowly with a light bulb or a hair dryer set on low. Keep the heat moving in that general area, but never concentrate heat on one spot. If that doesn't work, call a plumber.
For a detailed description of how to protect your home in the winter, click here.