Names Released In Calaveras Plane Crash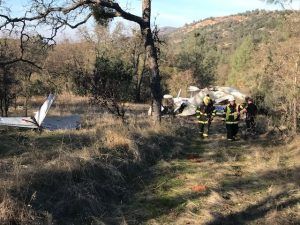 Plane Crash In Calaveras County

View Photos
Valley Springs, CA – The identities of two elderly men injured in Thursday's plane crash in Calaveras County have been released along with their conditions.
As reported here Thursday afternoon, sheriff's officials stated that a witness saw the airplane flying low and believed it may have clipped a tree near the end of the runway but it was unknown if the plane was taking off or landing on the private air strip along Hogan Dam Road between Valley Springs and Copperopolis.
Sheriff's officials have identified the pilot as 72-year-old Robert Pina of Lake Camanche and his passenger is 75-year-old Richard Campbell of Pine Grove. Both were flown from the scene and today, sheriff's officials report both are listed in stable condition.
It was also revealed that a dog was onboard the plane.  Calaveras County Veterinary Hospital officials evaluated the canine and report it is in stable condition as well.
The National Transportation Safety Board has taken over the investigation of the crash, but last night deputies provided overnight security at the crash site, according to sheriff's officials.