Update: New Details Released On Plane Crash In Calaveras County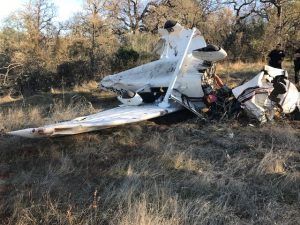 Plane Crash In Calaveras County

View Photos
Update at 4:50 p.m.: Calaveras County Sheriff's officials have released these new details on the plane crash south of New Hogan Lake.
The call came into dispatch around 1:45 p.m. Thursday reporting a downed aircraft in the 10000 block of Hogan Dam Road on a private property air strip between Valley Springs and Copperopolis.
Once on the scene, deputies found first responders treating two individuals that were able to free themselves from the wreckage. Sheriff's officials say that a witness reported seeing the airplane flying low and believed it may have clipped a tree near the end of the runway. It is unknown if the plane was taking off or landing at the time of the crash, according to investigators, who indicate that the exact cause of the crash is still unknown.
The plane is a 1981 Cessna fixed wing single engine air craft. Sheriff's officials have identified the pilot as a 72-year-old man from Lake Camanche and his passenger is a 75-year-old man from Pine Grove. Both were flown via air ambulance to hospitals outside of the county and their conditions are unknown.
Investigators are working with the Federal Aviation Administration and no further information is being released at this time.
Update at 3 p.m.: Cal Fire reports that the accident site is south of New Hogan Lake on the Wagon Wheel Ranch. A check of the plane's tail number indicates that it is a Cessna 172P Skyhawk plane with a private owner out of Jackson. Further details on the crash can be found below.
Original post at 2:30 p.m.: Valley Springs, CA — Emergency crews along with CAL Fire are on the scene of a plane crash.
CHP officials report that the accident took place on a private near New Hogan Dam in the Valley Springs area of Calaveras County. CAL Fire is handling the incident and has reported that two people were able to get themselves out of the aircraft but there is no word on injuries. However, an air ambulance has been called to the scene.
There are no details on what type of plane or where it was heading. We will bring you more details as soon as they come into the newsroom.