Calaveras Fire Districts To Ponder Local Future Of Fireworks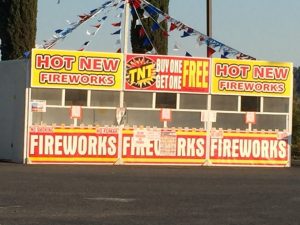 Stand Selling Safe and Sane Fireworks In Calaveras County

View Photos
San Andreas, CA – Calaveras County residents planning to ring in the New Year with fireworks might be relieved to know that the future of "safe and sane" fireworks is up in the air for a few more weeks.
Illegal throughout Tuolumne County, fireworks that carry the California State Fire Marshal's "safe and sane" designation may be set off across Calaveras except in the Ebbetts Pass Fire Protection District, located north of Murphys. However, as the region has come under increased fire threat due to its dry hot summers and high fuel vegetation, county staff recommended looking into a local ban, noting that nearly all the counties in the Sierra Nevadas have enacted them in their unincorporated more rural areas.
The subject, which appeared as a discussion item on last week's Calaveras County Board of Supervisors meeting agenda, drew several comments supportive of "safe and sane" wares from fire district representatives and even a few supervisors, who admitted to enjoying them as long as they were safely used. Too, there is the matter that proceeds from the sales of these products provide a significant source of fundraising revenue for local nonprofit organizations that plan on that annual revenue.
In the end, District 3 Supervisor and Board Chair Michael Oliveira asked that, ahead of the supervisors potentially moving towards establishing a county ordinance that each fire district bring the discussion to their own boards and report back within 30 days as to whether local rules might be better determined within the fire districts themselves.
Either way, "safe and sane" fans and benefiting nonprofit groups will likely learn soon whether the ability to purchase and use these fireworks in Calaveras will continue or go up in smoke sometime early in the new year.