Caltrans Wants Feedback On A New Bike/Pedestrian Path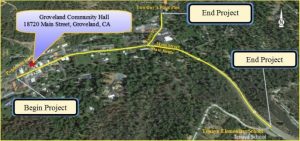 Proposed Groveland Bicycle and Pedestrian Improvement Project

View Photos
Groveland, CA – Caltrans will hold what it terms a "public outreach meeting" next week in Groveland regarding a new bike and pedestrian path being proposed there.
The proposed route for the Groveland Bicycle and Pedestrian Improvement Project would run along a section of Main Street/Highway 120 through the downtown. There would also be a shoot off on Ferretti Road ending at a local restaurant as shown in the map below and in the image box. Caltrans want to hear from the public regarding the proposal. Representatives will be on hand to detail the plans and field questions from attendees. The meeting will be held at the Groveland Community Hall located at 18720 Main Street in Groveland on Thursday, October 26th from 5 p.m. to 7 p.m. A presentation on the project begins at 5:30.
This proposal is part of Caltrans' Active Transportation Program to increase biking and walking as an alternative mode of transportation in the state.