Governor Brown: Current Wildfires Among California's Greatest Tragedies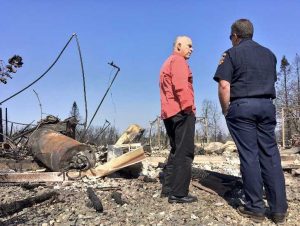 Governor Brown Views Aftermath Of Destructive Wine Country Fires

View Photos
Napa, CA — 41 people are now confirmed dead due to wildfires that have been burning over the past week in Northern California.
The most recent death was a contracted firefighter who was killed when his water tender went off a steep roadway this morning and overturned in Napa County. The victim has not been identified. It happened at around 7am on a road off Highway 29 near Yountville.
On a more positive note, crews are making progress containing the multiple fires. At one point there were over 100,000 people under evacuation orders, but the number is closer to 40,000 this morning. The over 20 fires that were initially raging have now consolidated into 14 incidents. Around 5,700 structures are lost and over 200,000 acres have burned.
After assessing more of the damage over the weekend, Governor Jerry Brown states, "This is truly one of the greatest, if not the greatest, tragedy that California has ever faced. The devastation is just unbelievable. It is a horror that no one could have imagined."
US Senator Diane Feinstein added, "I've never seen one quite like this. I think we see what weather is doing to fire in California. I think we see what weather's wind is doing."
Warm weather is expected early this week in the fire region, but then rainfall is anticipated this Thursday and Friday.