House Disaster Relief Bill Includes Fire Funding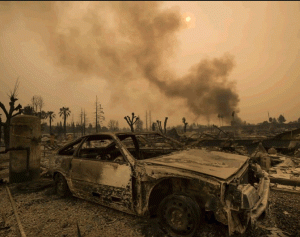 Fire Destruction In Sonoma County

View Photos
Washinton, DC — US House Speaker Paul Ryan weighed in on the devastating wildfires currently burning in Northern California.
During a press conference this morning in Washington, DC, Ryan spoke about the urgency in passing a $36.5-billion supplemental funding bill for disaster relief, which he says would help those impacted by the recent hurricanes, as well as wildfires in California.
Ryan stated, "These are some of the deadliest wildfires in their (California's) history. More than 122,000 acres are burning. You've seen the scenes on TV. It's haunting. Farms, businesses, livelihoods being destroyed. People have lost their homes. Seventeen people have lost their lives right now. Many, many more people are missing at this moment. So I just want to commend the firefighters and first responders who are risking their lives to help people fight these fires and to save people. You see what they're doing. It makes you proud of your country that we've got these men and women who are rushing into harm's way to save people. It just makes you thankful for who they are and what they do."
The disaster relief supplemental bill was approved in the House appropriations committee last night and is expected to be taken up by the full House later this week.
Ryan concluded, "This is a time when our country needs to respond. This is a time when all levels and units of government need to respond. And this is a time when we here in Congress will respond because that is our responsibility."