Democrats: Gun Violence Must Stop Now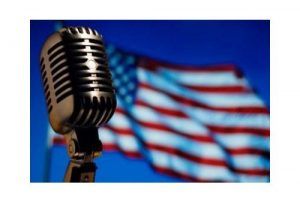 Microphone and US Flag

View Photos
In this week's Democratic address, Rep. John Lewis (D-GA) decried gun violence, calling it a "daily epidemic."
Lewis was Tuesday's KVML "Newsmaker of the Day".
"Hello. I'm Congressman John Lewis, and I represent the 5th District of Georgia.
On Monday, our nation woke up to the news of the worst mass shooting in our history. At least 58 people were killed. Over 500 were injured. All because an evil, disturbed man was able to get his hands on a dozen deadly weapons and turn them on a crowd of innocents.
When I think of Las Vegas – when I think of Newtown and Charleston, and Orlando and Aurora – my heart breaks.
Gun violence is a daily epidemic – a daily drumbeat of tragedy in families and communities across America. Not always on the front pages, but always someone irreplaceable and beloved.
90 Americans are killed every day. Every year, we lose more than 30,000 men, women and children to gun violence.
What will it take for the Republican Congress to wake up?
They hold moments of silence and vigils; they offer thoughts and prayers. But they do nothing. And when the media moves on, they peddle the lie that we need more guns to stop the violence, and they try to roll back protections that keep our communities safe.
I know – I've been around. I've seen too many gun deaths, and I've seen too much Republican inaction and obstruction. And I'm here to say, this must stop and it must stop now.
Democrats know what must be done. The way forward is clear. We are calling on our Republican colleagues to join us and take some simple steps to end the epidemic that is killing Americans every day.
First, Republicans must walk away from a radical, dangerous bill that would open the floodgates to silencers and armor-piercing bullets.
Second, they must work with us to pass the bipartisan King- Thompson bill, which would strengthen the life-saving background checks that keep guns out of the wrong hands.
Third, they must work with us to ban the sale of 'bump stocks' – a deadly tool that enables a shooter to spray murderous automatic fire at a rate of 400 to 800 rounds a minute, just as the shooter in Las Vegas did.
And finally, they must join us in establishing a bipartisan Select Committee on Gun Violence to study and prevent the daily tragedies of gun violence.
But Republicans have not lifted a finger. They have not done one single thing to combat this crisis. And worse – they are refusing to even begin a bipartisan process to address the gun violence epidemic.
How many more husbands and wives, brothers and sisters, friends and neighbors must die, before the Republican Congress acts?
How many more sons and daughters will be ripped away from their parents?
How many more mothers and fathers will be stolen from young children?
The families of victims deserve more than Republicans' empty words and moments of silence – they deserve action.
Good, commonsense proposals are already on the table. We invite our Republican colleagues to take a seat, and work with us on real action to stop the violence.
I say this to my Republican colleagues: We were elected to lead. We were elected to be headlights and not a taillight.
We cannot be silent. We cannot be complacent. We cannot wait for the next shooting.
Let us, this time, be different. Let us make a down payment on ending gun violence in America. Let us do our job – and let us bring commonsense gun legislation to a vote – now."
The "Newsmaker of the Day" is heard every weekday morning at 6:45, 7:45 and 8:45 on AM 1450 and FM 102.7.