Sheriff Mele: Despite Evil Act Of Vegas Mass Shooting 'We Must Stand Together'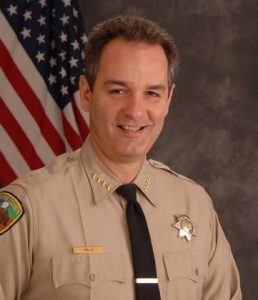 Jim Mele

View Photos
Sonora, CA – In an open letter to the Mother Lode, Tuolumne County Sheriff Jim Mele shares his thoughts about the tragic mass shooting last night that officials are now describing as the deadliest on record.
The text follows below…
With a heavy heart this morning, we mourn as we learn the details of the horrific mass shooting that took place in Las Vegas last night.
At least 58 people are dead and more than 500 injured after a senseless act that is becoming all too familiar to us. People at random were shot and killed.
We are saddened for those who lost their lives and loved ones.
Now, more than ever, we must stand together – we need to strengthen our bonds with each other and be committed to the good that exists in humanity, despite this evil act.
I ask all of you to keep your thoughts and prayers with the families of those who lost someone and for those who are recovering from the shooting.