More Items Found From Tulloch Boat Thefts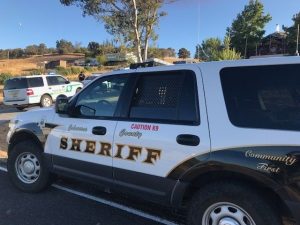 Raid on Copperopolis property were items from stolen boats on Lake Tulloch were found

View Photos
Copperopolis, CA – Two morning raids on Copperopolis residents uncovered additional stolen items taken from boats on Lake Tulloch.
Calaveras County Sheriff's Office detectives served stolen property search warrants at two locations: 3000 block of Signal Hill Trail and the 2000 block of Quail Hill Road. At both places, detectives recovered positively identified items taken from the stolen boats, as reported here earlier this month.
Sgt. Rachelle Whiting indicates that at the first location, deputies requested that Code Compliance officers respond to the residents due to unsafe living conditions and other miscellaneous code violations. Two arrests were made at the second residence, where stolen goods, drugs, guns and ammunition were found.
Sgt. Whiting reports that 30-year-old Joseph Leonard of Copperopolis was taken into custody having stolen property and methamphetamine, criminal conspiracy and probation violation. His bail is set at $20,000 bail. Convicted felon, 63-year-old George "Tony" Krajnovich, was also arrested after a rifle and ammunition were discovered for being a prohibited person in possession of those items. His bail is $35,000.
Sgt. Whiting shares that victims will be notified regarding the recovered stolen property as well as updated as to when this property can be returned to the rightful owners. She notes that the public's help is still needed as one boat, a 2006 North River fishing boat CF#0577RL is still missing.