Angels Camp Police Seeking Two Assault Suspects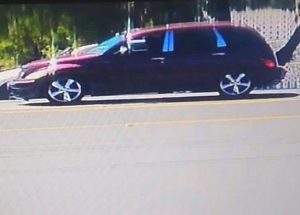 Maroon PT Cruiser of interest in Justice For CiCi related assault incident Sept 23 2017 AC Police Photo

View Photos
Angels Camp, CA — Tempers that were already flaring between animal rights protesters and supporters of a pet business owner facing trial over animal cruelty and other charges came to a head over the weekend.
Angels Camp Police Chief Todd Fordahl has released still images from local surveillance footage that depict two suspects and a vehicle of interest from a fight that broke out Saturday afternoon in front of Pet Bath House, located at 172 S. Main Street, resulting in injuries to two protesters.
According to police, eyewitnesses reported a male and female approached the protesters and began yelling at them to leave the area. The female allegedly proceeded to flip over the protesters' table and struck a female protester numerous times with a closed fist. A second protester after running to assist the first and yell for the female to cease the assault was also struck twice in the face by the female suspect. Both protesters suffered minor injuries.
Witnesses state both suspects ran from the scene after a third protester retrieved a stick from her vehicle and brandished it while warning them to leave. The male and female were seen fleeing to a maroon colored PT Cruiser with an unknown license plate, which departed westbound on Stockton Road.
Police Seeking Odd Pair, PT Cruiser
Police are currently looking for both suspects. The female is described as approximately 5'6″ tall, 140 pounds and wearing a white tank top at the time of the attack. As she also had on a dark, shoulder-length wig, witnesses could not provide an approximate age or ethnicity. The male is described as approximately 25 years of age and heavyset with dark hair. He was wearing a black beanie cap and a black hooded sweatshirt. Due to conflicting witness descriptions police did not release an approximate height. To view an image captured of the two, click into the image box slideshow. Officers, who subsequently spoke to Pet Bath House owner Vonna Hughes near the scene, say she denied any involvement or knowledge of the fight.
The protest stems back several weeks to early July, shortly after a displaced Butte Fire survivor living in San Andreas — who had been boarding his three dogs for about 18 months without incident at a Valley Springs kennel — had recently moved them to Hughes' facility. Within a couple of days Hughes reported the trio were attacking other dogs; within another week, the canines disappeared and Hughes told the owner they had been "put down."
As reported here, a few weeks later — with the help of flyers carrying photos of the missing animals posted through the community — two were found alive and returned to their owner. The remains of the third whose name was CiCi were recovered following their discovery by a utility company employee working in the area. Since then, protesters wearing shirts and carrying signs "Justice For Cici" have been picketing in front of the Pet Bath House and due to protesters' complaints the planning department is investigating the business to determine if there is cause for revoking Hughes' business license.
As the case is actively under investigation police are busily examining more surveillance footage and requesting anyone with information about the incident to contact the Angels Camp Police Department at 209 736-2567 or by email at acpd@angelscamp.gov.