Calaveras Sheriff's 'Right Hand' Assistant Receives State Honors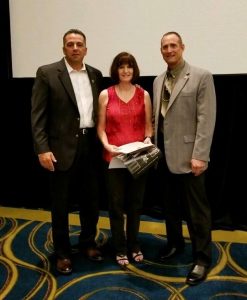 Calaveras Sheriffs Tech Kathy Frost honored with California State Sheriffs Assn Award

View Photos
San Andreas, CA — A 16-year veteran of the Calaveras County Sheriff's Office whose behind-the-scenes support carries across the unit was surprised this week to find herself a state honoree.
Yesterday, during this week's California State Sheriffs' Association (CSSA) conference in Palm Springs, Sheriff Rick DiBasilio's Tech Assistant Kathy Frost was given the organization's Sheriff's Executive Assistant/Secretary of the Year Award for her administrative and other support role functions working directly for the Calaveras Sheriff. CSSA Executive Director Carmen Green describes the honor as recognizing the high level of quality, skills and/or extraordinary accomplishments that help bring distinction to a sheriff's office over the course of a year.
Sheriff DiBasilio confides that with the help of Capt. Jim Macedo, he drafted and sent a nomination that was screened along with others submitted by sheriffs' offices across the state through a special committee. "I don't know how many other submissions they took because it does not matter — to me, she's Number One," Sheriff DiBasilio says unabashedly.
Recalling Frost's service to the department, the sheriff shares, "She started with the department in 2001 and was Sheriff Dennis Downum's direct secretary when I started in 2002 and when Gary Kuntz took office she stayed with the department although he had another secretary in the position." Following the sudden death of Sheriff Kuntz in October 2015 and Sheriff DiBasilio's appointment to the position by the county supervisors the following spring, he notes, "I saw the work that she did with Downum and in talking with my upper-line staff I knew that she was just the right choice…a good fit. We got along really well and she is very good at what she does."
The sheriff's nomination letter can be viewed by clicking into the image box slideshow. He adds that after he received the word of Frost's selection, she was hoodwinked into attending the conference with the help of Amador Sheriff Martin Ryan and his secretary Erin, who also happens to be Frost's good friend. Cooking up a ruse that it was Erin who received the award, the sheriffs asked Frost to convince her Amador counterpart "without tipping her off" that they both needed to attend the training at the conference. DiBasilio chuckles recalling how the operation came off without a hitch.
Although Sheriff DiBasilio admits he cannot even begin to list all she does for him and his office, for starters he says she anchors the paperwork side of unit programs, training, internal affairs and scheduling, including his own self-described "crazy" calendar. He adds, "She is just all-around very knowledgeable. She is absolutely phenomenal. Her boundaries are unlimited."