Cheers, Some Jeers At McClintock's Calaveras Town Hall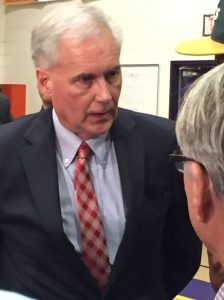 Congressman Tom McClintock at Calaveras County Town Hall Meeting Sept 20 2017

View Photos
San Andreas, CA — Among hot topics hurled about at Congressman Tom McClintock's town hall event last night were health care, climate change and the fate of young "Dreamer" immigrants.
The public event kicked off promptly at 6 p.m. inside Angels Camp's Bret Harte High School gymnasium just after the the U.S. Representative for California's 4th congressional district briskly strode in; flanked by aides and well supported by a strategic scattering of local law enforcement officials. A whirl of about four dozen sign waving protestors, some bearing supportive Obamacare and anti-Trump resistance posters, followed on his heels and made some brief noise, as shown in this video clip. McClintock, game face intact, acknowledged their First Amendment right and the need for civility. "As long as we are talking with each other and not shouting each other or disrupting…we can't do this if people are seeking to disrupt these proceedings," he cajoled, indicating before he opened the floor that he had about an hour and a half for taking questions.
Out of the gate he was queried about the last-ditch Republican attempt to repeal Obamacare drafted by Senators Lindsey Graham of South Carolina and Bill Cassidy of Louisiana. "The short answer is I like what I see so far but it falls short of everything I would like to see in that bill," McClintock replied. Bellyaching at length that the Senate's failure to reform its cloture rule was preventing debate, he described the proposal as "a huge step forward," as detailed in the video here.
His stated reasons were that the bill gets rid of the individual and employer mandates; leaves health insurance systems up to the states through block grants and allows people to shop for insurance across state lines. Dissenters in the crowd who called out "Medicare for all," invoking Senator Bernie Sanders' single-payer position drew some applause mixed with loud boos. McClintock decried it as an impossibly expensive proposal that would leave people without choices.
A 'Consensus' On Climate Change?
Constituents on both sides of the climate change debate queried him on his position, relative to President Trump's. While McClintock allowed that the climate is changing and growing warmer, he added, "It has been changing for four and a half billion years…warming on and off since the last Ice Age. But when you say we are in a period of historic extremes, I am not sure it is supported by the data." Pivoting a bit, he cited a need for consensus on important related policies such as promoting better forest management and building more reservoirs, if water cannot be sufficiently stored as snow in the mountains until later in the year.
With regard to DACA, the Dream Act, McClintock maintained the six months Trump has mandated is enough for Congress to make the necessary immigration reforms. However, he stated that the move to grant permanent residency to young immigrants currently registered — as long as they have not committed any crime or were ordered deported or found with affiliations with any gangs — would need to happen at the same time as finishing the border wall; instigating the entry-exit monitoring program and increasing penalties for employers who hire illegal immigrants. "It all has to be done at the same time in order to be effective," he insisted.
When asked why the Republican Congress was not completely supportive of President Trump, McClintock maintained that the House has been doing its job. "We have passed a number of regulatory rollbacks which fortunately do bypass the cloture rule in the Senate," he emphasized. He also pointed out that a trillion dollars in regulatory relief, including rolling back Dodd-Frank regulations, got no media attention for the House because it passed the same day that ex-FBI Chief James Comey was testifying in the Senate. "We completed all 12 appropriations bills and sent them all to the Senate," he added, urging constituents to hold the Senate Republicans accountable. He additionally shared that the budget vote, now pending on the House floor should come up next week. Among his related remarks on the topic, McClintock commented, "The national debt is the one thing that keeps me up at night — 20 trillion dollars now — it is as high as it has ever been, relative to the history of this country."
Queried as to his thoughts about Trump's controversial address Tuesday to the UN General Assembly, McClintock called it perhaps the strongest ever delivered by a President to that body. Click here to hear his comments and the response from the room.
Road Repairs Among Local Concerns
Among the questions posed relating to local topics was the status of FEMA funding assistance to address much needed repairs to secondary and backcountry roads within Calaveras and Tuolumne counties that were sorely damaged due to this past winter's disastrous wet weather. "We are working with local governments," McClintock affirmed. "FEMA is improving…but still has a long way to go and the record number of disasters is an issue." He also illuminated a need for federal lands policy changes to open roads that have been closed for public access and safety purposes.
McClintock directed the final question of the meeting to the crowd asking, "Are we moving on the right track with this Administration?" The response of distinctly louder cheers over the jeers brought a satisfied smile to his face.
Local lawmakers who made it to the event included Calaveras District 1 Supervisor and Board Chair Michael Oliveira and Tuolumne County District 2 Supervisor Randy Hanvelt. Jessica Morse, one of four female Democratic contenders hoping to unseat McClintock in the next election was also on hand, busily working the exit crowd, which Angels Camp Police Chief Todd Fordahl summed up as being fairly well-behaved, all things considered.