Patch Paving On Sonora's Gold Street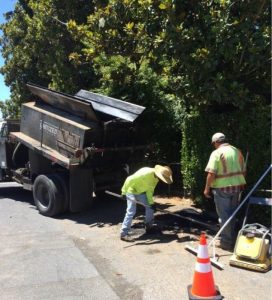 TUD Paving Work

View Photos
GT Construction Incorporated, under the direction of Tuolumne Utilities District (TUD), will be patch paving on Gold Street today from 7 AM to 5 PM.
Lisa Westbrook, TUD Public Relations, was Wednesday's KVML "Newsmaker of the Day".
The patch paving is scheduled today (Wednesday) on Gold Street between Stewart Street and Baretta Street, in order to pave various trench patches in the area.
TUD is requesting that residences with vehicles on Gold Street, within the project area, relocate during the project work hours if at all possible.
Please be advised that traffic controls will be in place. Drivers may experience five to ten minute traffic delays during project work hours.
Drivers are encouraged to use an alternate route if possible. Please drive with extreme caution in this area while work is being completed.
There has been a lot of this type of work throughout Tuolumne County this past year. According to Westbrook, "Unfortunately, with the infrastructure at TUD, we do have a lot of water mainline breaks so what we try to do is to go back through and cleanup the roads as much possible after the crews are done with their work."
When asked about the current water supply situation in Tuolumne County, Westbrook responded, "The water year ends September 30th. Right now Pinecrest Lake is at 91% capacity. Lyons Reservoir is at 81% capacity. So they are right where they need to be for this time of the year."
For more information log on to www.tudwater.com or call 209-532-5536.
The "Newsmaker of the Day" is heard every weekday morning at 6:45, 7:45 and 8:45 on AM 1450 and FM 102.7 KVML.