Additional Growth On Lightning Caused Fires In Forest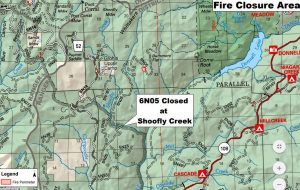 F Bummers Fire closure area

View Photos
Tuolumne County, CA — A couple of fires burning in isolated areas of the Stanislaus National Forest saw growth over the weekend.
The Bummers Fire in the Summit Ranger District is up to 29 acres and there is no containment. It was ignited by lightning on September 11 in the remote area of Bummers Flat. Five firefighters are assigned to the incident. Forest Service Road 6N05 is closed at Shoofly Creek and north to Bummers Flat. The objectives are to maintain firefighter safety, manage the smoke, and return natural fire to the landscape.
The Creek Fire in the Mi-Wok Ranger District, near the Clear Lake and Bourland Mountain region, is 652 acres and 5-percent contained. Fire activity increased over the weekend. The incident, which ignited on September 3, is in a remote area and no structures are threatened. There are 48 firefighters assigned. Firefighters are trying to use minimum suppression tactics by utilizing trails, ridges and natural barriers to create fire lines. The Forest Service is also trying to protect an area heavily populated by the California Spotted Owl. Nearby roads in the forest that are closed include 3N29/3N26, 3N01/3N16, 3N29/3N21, along with the Rock Creek Trail and Bell Meadow.
The Summit Complex Fire, which is made up of three lightning caused fires that ignited on July 31, is around 4,682 acres and 35-percent contained.  Unlike the other two, there has been very minimal fire growth over recent days.