Record Breaking Night Raising Money For Cancer Patients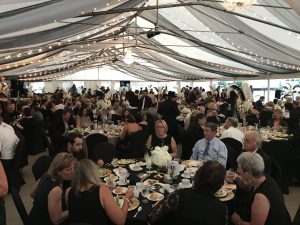 2017 Joie de Vie Gala

View Photos
Murphys, CA — Last night's Joie de Vie Gala at Ironstone Vineyards for Adventist Health Sonora's Cancer Patient Support Fund raised $260,000.
The sold out event included a silent and live auction, catered dinner and keynote address from former San Francisco 49er Junior Bryant. The defensive lineman, who played from 1995-2000, spoke about the importance of teamwork and overcoming obstacles.
The Irving J. Symons Award, recognizing community excellence, was given to Don and Charlotte Frazier, who moved to Sonora in 1985. They owned Hillcrest Manor, a 111 bed licensed facility for the elderly, for 25 years. They have also been involved with the Tuolumne County Chamber of Commerce, Sierra Senior Providers, various Adventist Health Sonora boards, Sonora Sunrise Rotary and other organizations.
The silent auction included several locally donated items and packages. The live auction featured items ranging from exclusive trips to handmade furniture, bringing thousands of dollars. An original 1977 Star Wars film poster brought $5,000 alone.
Adventist Health Sonora President and CEO Andrew Jahn was very pleased with the evening, saying, "Joie de Vie Gala is just a wonderful opportunity for the community to come together, make friends, have a great time, help raise some money for a great cause, and do some serious work."
Speaking about where the money will go, Adventist Health Sonora's Marketing Director Lindsay Brewer adds, "The Cancer Patient support fund helps with cancer patients unmet financial needs. It could be travel to and from appointments, gas cards, a hotel stay, or even things like your air conditioner went out in your house during treatment and you can't afford to fix it. It is a whole wide range of unmet financial needs."
The event was put on by several community volunteers and hospital staff. This year's committee chair was Katie Dunn. 2017 marked the 17th year of the annual fundraiser.