Local Group Honored For Helping Butte Fire Survivors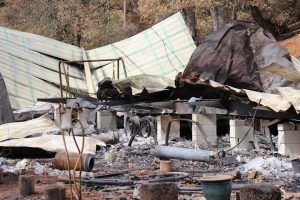 Butte Fire Recovery Debris Removal

View Photos
San Andreas, CA – A group made up of volunteers is showing what good can come out of a catastrophe like the Butte Fire as they have built nearly ten homes and even helped to furnish them.
Calaveras Recovers has received a well-deserved proclamation from the Calaveras County Board of Supervisors this week for the work that they have done and continue to do to help Butte Fire survivors with their immediate and long term needs. Initially, the group provided gas cards and hooked up those impacted with local social services. Later on, with the help of many faith based groups from all over the United States, they have been able to assist 220 survivors, as Calaveras County spokesperson Sharon Torrence details, "The group has provided complete household contents for 26 households under the "House in a Box" program and constructed 7 homes, with 3 additional homes near completion for those survivors who lost their homes and were uninsured or under insured."
Calaveras Recovers was created on October 18, 2015 and nearly two years later the entire board, made up of ten volunteers, voted to keep the group in tact so that if another disaster strikes the county they will be ready. For more details on the group and see a list of the board members click here.