Update: Bummers Fire In Forest Prompts Closure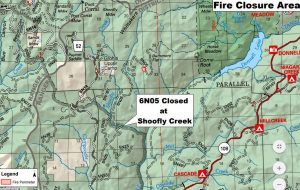 F Bummers Fire closure area

View Photos
Update at 12:25 p.m.: A closure alert for those heading to the Stanislaus National Forest. The Bummers Fire is forcing the closure of a hot hunting area. The eight acre fire is burning near the Bummers Flat area on the Summit Ranger District. It was sparked September 11 by lightning and has grown to eight acres in size with zero containment. Forest officials report the flame's rate of spread is moderate and it is a fire the forest has been managing  with five firefighters on duty. However, due to firefighter and public safety concerns, a stretch from Forest Service Road 6N05 at Shoofly Creek and north to Bummers Flat has been closed to the public until further notice. (For a closers look at the closure map, click here Closure_Bummers_B_09152017)
Original post at 9:50 a.m.: Sonora, CA – Today marks the beginning of Tuolumne and Mariposa counties hunting season while Calaveras County's starts next Saturday (Sept. 23) with forest officials targeting fire safety as a caution for hunters.
"Stanislaus National Forest is experiencing frequent lightning storms, which increase the potential of fire activity," said Scott Tangenberg, acting Forest Supervisor. "We want hunters to not only know where current fires are burning, but also to know what to do if they find themselves in a fire situation."
About 37 lightning fires are burning on the forest, as reported here and is the focus of this weekend's Mother Lode Views.  Most are single trees that were struck by lightning and have a low potential for increased fire activity, according to Tangenberg , who adds, "Nevertheless, any fire has the potential to expand, so we strongly recommend everyone remain aware of the closure that is in effect."
Here are the current fire closures as provide by forest officials. They include the area west of the Arnot Trail, but the trail is open. Shut down as well are trails 19E18, 20E62, 19E67, Wheats Meadow and County Line Trailheads, Fence Creek Road and Fence Creek Campground. (For a map, click here McCormick Fire closure area as of 9-14-17).
Remaining in effect also are the temporary fire restrictions in moderate hazard areas, which will continue through the end of the fire season, as reported here. Additionally, there are roads that are still closed or barely passible due to damage from the wicked winter. Click here for road details. Information regarding daily fire activity can be obtained by calling any of the ranger districts listed below:
Stanislaus National Forest offices:
Stanislaus NF Supervisor's Office:  209-532-3671
Calaveras Ranger District:  209-795-1381
Groveland Ranger District 209-962-7825
Mi-Wok Ranger District at 209-586-3234 (Fridays only 8 a.m. to 4:30 p.m.)
Summit Ranger District at 209-965-3434.