Fighting Fires In The Stanislaus National Forest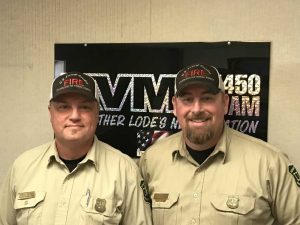 Brent Kaiser And Dave Updike

View Photos
Sonora, CA — The Stanislaus National Forest has dozens of active fires burning, including the 4,600 acre Summit Complex Fire and 485 acre Creek Fire.
The Forest Service has been managing many lightning caused fires this summer for ecological benefit, and allowing them to burnout naturally where possible. This weekend's Mother Lode Views will focus on firefighting in the forest, and the guests will be the recently appointed Stanislaus National Forest Fire Chief Dave Updike and the Summit Complex Fire Incident Commander Brent Kaiser.
They will give an update on the lightning sparked fires, talk about why the forest service chooses to manage certain types of incidents as opposed to actively suppress, speak about firefighting challenges related to tree mortality, what the most common causes of fires are in the forest, how the community can  help, and preview upcoming prescribed burning during the cooler months.
Updike will also speak about the Forest Service's involvement during the now 100-percent contained 81,000 acre Detwiler Fire in Mariposa County, and the level of concern he had when it had the potential of entering the Stanislaus National Forest.