Déjà Vu For A Twain Harte Man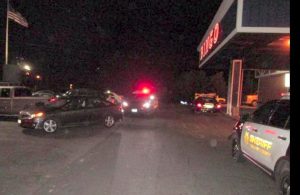 Drug bust in the Chicken Ranch Casino parking lot

View Photos
Jamestown, CA – A Twain Harte man may be feeling a bit of déjà vu after being arrested two nights in a row by Tuolumne County Sheriff's Deputies.
As reported here early Monday night, 24-year-old Mark Hyder of Twain Harte was busted for drugs after a concerned citizen reported a possible drug deal going down near the ampm on Mono Way. Hyder was found with a hypodermic syringe loaded with methamphetamine, a digital scale covered with white residue. As he was charged with a misdemeanor a judge ordered Hyder released on his own recognizance.
On Wednesday night, deputies responded to a report of drug use in the Chicken Ranch Casino parking lot and who did they find standing with security guards – Hyder.  Deputies searched him and this time discovered hypodermic needles, heroin and methamphetamine. He was arrested.
In a Toyota Camry that Hyder had been inside, deputies questioned the driver 33-year-old Sean Bachman and passenger 24-year old Moriah Do, both of Manteca. A records check of the pair revealed they were wanted in San Joaquin County. They admitted to using heroin in the parking lot and were placed under arrest, according to sheriff's officials.
The car was searched and numerous hypodermic needles and drug paraphernalia were found inside. All were taken to the Tuolumne County Jail facing charges of possession of a controlled substance and possession of drug paraphernalia. Bachman's warrant was for violating Post Release Community Supervision while Do's centered around charges of transportation and sale of a controlled substance. Once at the jail a search of Do turned up heroin hidden in her clothing.