Sonora Traffic Stop Leads To Drug And Gun Related Charges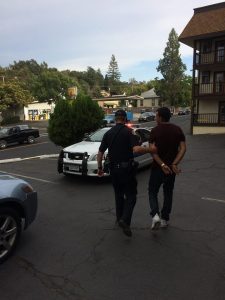 Daymian Ooshana Arrested In Sonora

View Photos
Sonora, CA — A Turlock man was pulled over in Sonora for having expired registration tags on his vehicle, and he was arrested on a variety of charges.
23-year-old Daymian Ooshana was stopped while driving a 2004 Acura Integra on South Washington Street at 4pm on Wednesday. The PD reports that Ooshana was driving without a license in addition to the vehicle having false tags. Officers searched the Acura and found a .45 caliber semi-automatic handgun, a loaded magazine and additional ammunition.
Ooshana was taken to Tuolumne County Jail where officers later discovered a methamphetamine pipe concealed in his clothing. He was booked into jail on felony gun charges, possession of drug paraphernalia and misdemeanor vehicle code violations.