Governor Issues Somber Patriots Day Proclamation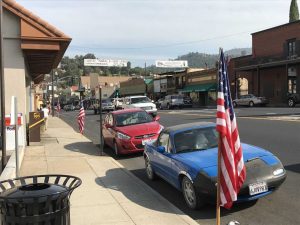 Flags Along Washington Street In Downtown Sonora

View Photos
It has been 16 years since the tragic attacks of September 11, 2001.
In remembrance, the Sonora Police Department's Explorers were out early this morning putting up flags along Washington Street in downtown Sonora.
On this Patriots Day, Governor Jerry Brown has issued a state proclamation. You can read it below:
"Sixteen years ago today, Al-Qaeda terrorists hijacked four commercial airliners to use as suicide missiles against major American landmarks, including the Pentagon and New York's World Trade Center, where most of the nearly three thousand victims perished.
Each year since those terrible events, we have observed September 11 as Patriot Day to honor both those who lost their lives and the men and women who showed such bravery in responding to the attacks and aiding the victims. Each year, in remembering these tragic events, we rededicate ourselves to the American values of life, liberty and equality that were, as much as our land and our loved ones, the target of the attacks.
On this somber anniversary, I urge Californians to commemorate the lives we lost and the bravery of those who responded. I have ordered all flags on state buildings to be flown at half-staff."