Update: Yosemite Fire Officials Share Latest On Railroad Fire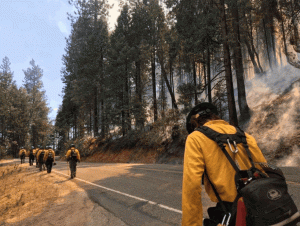 Railroad Fire

View Photos
Update at 12:42pm: Fire officials say containment is growing on the Railroad Fire now burning between the communities of Sugar Pine and Fish Camp.
This afternoon the latest data indicates that the now 12,407-acre wildfire, which sparked Aug. 31, is now 75 percent contained. No structures are currently threatened although 17 have so far been destroyed. Six injuries have happened in the course of firefighting activities and 811 in personnel are on-scene today. The cause remains under investigation.
Officials say that fire line construction was completed last night. While all evacuation orders have been lifted, Highway 41 drivers are being urged to drive with caution due to the major presence of fire crews and equipment along the highway as well as residential streets and forest roads. Caltrans is maintaining parking restrictions on the highway. Fire officials note that travelers will see smoke within the fire area along with smolder from heavy down material.
Original Post at 7:59am: Yosemite, CA — Highway 41 re-opened over the weekend, allowing access via that route to Yosemite National Park.
The highway had been closed due to the 12,358 acre Railroad Fire burning in the Sierra National Forest. The fire is now 70-percent contained and growth was very limited over the weekend.
In Yosemite, the Rattlesnake fire, which ignited this past Thursday when an RV caught on fire along Big Oak Flat Road, is 100-percent contained, and 15 acres. Officials will continue to monitor the burn area throughout the week.
The South Fork Fire remains 47-percent contained near Wawona and 6,740 acres. Fire activity has been quiet and officials have been allowing it to burn out naturally where possible. The same goes for the Empire fire near Glacier Point Road which is 5,787 acres and 55-percent contained.
The smaller lightning caused Starr King Fire is 60 acres and there is no containment. It is burning near the Cascade Cliff area.