Update: Fires Continue To Burn In Stanislaus National Forest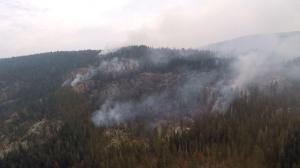 Creek Fire burning on the Mi Wok Ranger District of STF

View Photos
Update at 10:30am: The Stanislaus National Forest reports this morning that the Summit Complex Fire is now up to 20-percent containment and 4,653 acres. There is no change on the size and containment estimate of the Creek Fire.
Original story posted at 6:50am: Tuolumne County, CA — The lightning caused Creek Fire in the Mi-Wok Ranger District near Clear Lake is up to 406 acres and there is no containment. 50 firefighters are assigned to the incident. It ignited on September 3 when a strong thunderstorm cell moved through the area. Fire crews have had limited access due to washed out roads, steep terrain and tree mortality. Crews are lighting backfires in hopes of keeping it to the south and east of forest roads 3N29 and 2N29C.
Click here to view a map of the Creek Fire
Meanwhile, the Summit Complex Fire near the Dardanelles is 4,124 acres and 10-percent contained. There are 115 firefighters assigned to the incident, which was also sparked by lightning. There was only minimal fire growth over the weekend, with some creeping and smoldering. Rainfall in the high country this past week has slowed the fire's growth, according to the forest service.
Click here to view a map of the Summit Complex Fire