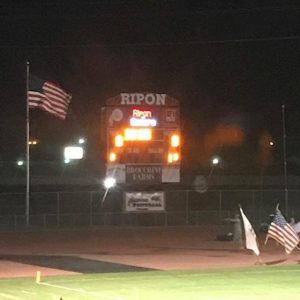 Sonora beats Ripon Indians

View Photos
Two area teams got needed wins and two others continued their winning streaks in week three of the high school football season.
The Sonora High Wildcats picked up their first win of the 2017 season over the Ripon Indians, 48-33.
The Wildcats looked sharp from the opening drive as they moved the ball with ease down the field capped by a Jake Gookin 37 yard pass to Kane Rodgers for the opening score, which broke Ripon's run of seven quarters of not allowing a score. The Indians came back on the next set of downs and connected on a 67 yard pass for a score, but the point after failed and the Wildcats were leading 7-6 after the first quarter.
Sonora proceeded to score 21 points in the second quarter while holding the Indians scoreless. Jake Gookin took it to the endzone on a 32 yard run, C.J. Castleman scored on 6 yard run and Jack Camara battled in from 3 yards out all the while dragging Ripon defenders. Sonora led at halftime 28-6.
The 3rd quarter was back and forth between the two teams until Castleman broke to the outside and went 48 yards for a touchdown scamper. This capped off 28 unanswered points by the Wildcat offense.
The 4th quarter was a slug fest with both teams trading scores. Rodgers had a beautiful 45 yard touchdown run to start the 4th quarter. Ripon answered right back with a 49 yard touchdown pass. Camara refused to go down as he drove defenders off and rumbled 49 yards to the glory land for a touchdown. Ripon added one more score towards the end of the game, but it wasn't quite enough as the Wildcats pulled out the win. Bryan Wynn, the Wildcats kicker went 6 of 7 on extra point tries.
With their first win out of the way, Sonora will be home next week at Dunleavy Field against the Hilmar Yellowjackets.
The Summerville Bears advanced to 3-0 for the first time under Coach Sean Leveroos in a 42-30 victory over the Ripon Christian Knights. Summerville controlled the game from start to finish and looked very confident throughout. Next Friday Summerville will travel to Hughson to take on the Huskies.
Bret Harte High School also got its first win beating the Golden Sierra Grizzlies 47-29. Next Friday they take on the Highlands Scots at home.  Calaveras chalked up another win running over Modesto Christian 42-7. Calaveras is also on its home turf against Union Mine of El Dorado on Friday.
*Mark Ferreira and Brandon Steele contributed to this report.