Planning Commission Will Review KFC Proposal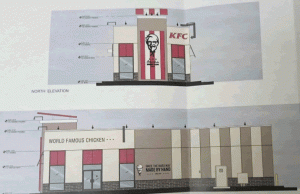 Sonora KFC Design Proposal

View Photos
Sonora, CA — The Sonora Planning Commission will review a proposal to replace the longtime Denny's building with a KFC restaurant.
The site at 1001 Mono Way also briefly served as an Original Buffalo Wings restaurant. Clifton Sorrell, of VMI Architecture, has submitted a design review permit to the city to replace the existing building with a new drive-thru KFC.
Meeting documents note that the project would be consistent with the city's current zoning and General Plan. KFC is currently located in the Junction Shopping Center in east Sonora. If the project is approved by the city, it would join fellow fast food restaurant Carl's Junior in the Timberhills shopping center.
The Tuolumne Utilities District has sent a letter to the city requesting additional information from the applicant to ensure the existing distribution system has adequate capacity to meet the project needs, and also recommends some improvements such as a back-flow device and a grease interceptor. The Tuolumne Heritage Committee has also sent a letter arguing that the design for the project is "cookie-cutter" and requests a complete redesign so that the building is more "in-harmony" with the shopping center where it would be located.
The project will be discussed at the planning commission meeting this coming Monday at 5:30pm in Sonora City Hall. It is open to the public.