Halting Mass Mailings At Taxpayers Expense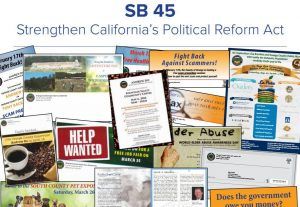 Examples of mass mailings

View Photos
Sacramento, CA — Backers of a new bill headed to the Governor's desk that would prevent mass mailing using taxpayer money before elections argue it is the only way to ensure fairness in the election process.
State Senate and Assembly internal rules already impose mailing blackout periods for lawmakers but Senate Bill 45 would make it law. Authored by Senator Tony Mendoza (D-Artesia), the measure passed the Senate Floor with bipartisan support and no opposition. If signed by Governor Jerry Brown, it would amend the Political Reform Act to prohibit a city, county, special district, or state elected official whose name appears on a ballot from using taxpayer money to send a mass mailing for 60 days prior to an election.
"Fairness in an election is the cornerstone of our democracy," said Senator Mendoza. "Using the tools of your office to gain an unfair advantage over an opponent is detrimental to our electoral system and undermines public trust in our government."
Mendoza says he introduced the bill because an Orange County supervisor spent excessively on taxpayer-funded mail just before the 2016 election. Election officials say the mailings benefit incumbents, even if they are not explicitly used for campaign purposes.