Business Leader Sought For Homeless Task Force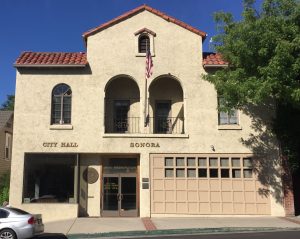 Sonora City Hall

View Photos
Sonora, CA — The City of Sonora is looking for one additional person to serve on its new homeless task force, which will look at challenges related to the homeless community and potential solutions.
The city sought members with different backgrounds and areas of expertise. It was decided at Tuesday's meeting that the city council members on the task force will be Jim Garaventa and Matt Hawkins, the homeless advocate will be Jeanette Lambert, the agency service provider will be ATCAA Director Raj Rambob, the charitable services member will be Interfaith Director Cathie Peacock and the public member will be Collette Such.
Mayor Connie Williams comments, "We received 21 applications for this homeless task force, and I was very surprised, because a lot of people don't really want to volunteer to do something like this. I was pleased and surprised with the number of applications, but I was disappointed with the number of business owners that did not apply. But, they (merchants) came to the meeting and asked that we open that back up, which we are going to do."
Williams says applications will be accepted for the final position, a member of the business community, through September 14 at noon. Applications are available on the city's website, or by stopping by city hall.