Opposing Opinions About DACA Decision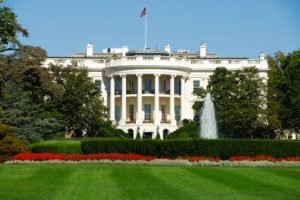 The White House

View Photos
Congressman Tom McClintock is praising President Trump's decision regarding DACA, while Governor Jerry Brown supports a lawsuit in opposition.
DACA, Deferred Action For Childhood Arrivals, is an Obama-era program that protects young immigrants in the country illegally from deportation. President Trump's administration announced plans to end the program, but also gave Congress a six month window to come up with an alternative before the reversal is fully implemented.
Governor Jerry Brown called the Trump administration's decision "senseless and cruel" and stated that he supports California Attorney General Xavier Becerra's decision to file a lawsuit in opposition.
Attorney General Becerra says, "President Trump has turned his back on hundreds of thousands of children and young Americans who came forward and put their trust in our government….This Administration has chosen to ignore what American voters have said they think is right. Nearly 80 percent of voters want to protect the legal status of Dreamers. Ending the program is devastating not just for recipients, but for our economy. California businesses would lose more than a billion dollars in turnover costs. Attorney General Sessions claims this decision is full of 'compassion,' but real compassion would be treating Dreamers 'with heart,' as President Trump himself said. California is taking action because one in four DACA grantees live in our great state. I will do everything I can to fight for them."
With a different opinion, Mother Lode District Four Republican Congressman Tom McClintock says President Trump was right to end DACA, saying President Obama's executive order creating the protections was unconstitutional, and says the upcoming Congressional action should incorporate two polices.
McClintock states, "First, the reform must include measures to restore complete integrity to our legal immigration system.  This includes full funding for construction of the border wall, mandatory use of e-verify for employment with strengthened penalties to employers who violate federal employment law, strengthening penalties for those illegally entering or staying in the country, strong sanctions against local and state sanctuary jurisdictions and implementation of entry/exit monitoring of visa stays. Second, DACA must not be made a permanent and open-ended policy, or we will encourage more parents to illegally bring their children to the United States.  DACA should be ended immediately.  Those currently enrolled in the program should be granted legal residency if they have no criminal convictions in their background, if they are not affiliated with criminal gangs and if they have not previously been subject to a deportation order.  DACA residents who wish subsequently to apply for citizenship should not displace the applications of legal immigrants. "