Illegal Cannabis Grow Busted In Calaveras County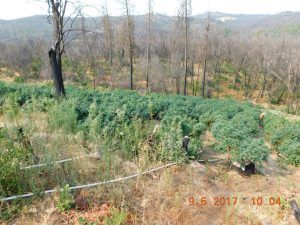 Pot plant bust Mountain Ranch

View Photos
Mountain Ranch, CA – Calaveras County Sheriff's Office assisted in a raid of a Mountain Ranch property on Tuesday.
Deputies provided security for code enforcement officers to serve an abatement warrant at an illegal marijuana cultivation site on Wendell Road. Sheriff Rick DiBasilio explains, "This was done under the county's new 8.06 ordinance which has taken the eradication process from the 120 days that it use to be down to about 16 to 18 days…Code enforcement has a contractor that comes out and eradicates the actual plants, then loads them up and we escort it down to the landfill. So we're there for a couple of reasons: one for security, two because it's still an illegal product and three to make sure that it gets transported and disposed of correctly."
Officers discovered 699 marijuana plants, which were destroyed. There was also a water tank and plastic bottles of plant grow were littered around the site, which Sheriff DiBasilio says can be harmful, "Typically they're like a Miracle Grow but they are still classified…some of them as a pesticide. The problem is that they just leave the stuff lying around and anything in concentration, obviously, that runs down into our waterways is going to cause problems."
There were no individuals found at the site as it had been abandoned.