Stanislaus National Forest Names A New Supervisor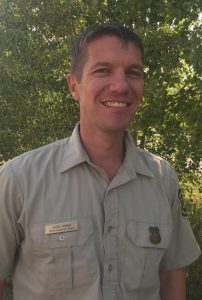 New Stanislaus National Forest Supervisor Jason Kuiken

View Photos
Sonora, CA — A committee made up of several regional deputy forest supervisors and forest supervisors vetted several applicants and decided on a deputy forest supervisor with beetle epidemic experience.
He is Jason Kuiken a Wisconsin native. His most recent work has been as the Deputy Forest Supervisor on the Okanogan-Wenatchee National Forest in central Washington. "My family and I are very excited to join the Stanislaus National Forest and carry on the great traditions of meeting the Agency's mission in the Sierras," Kuiken said.
Kuiken was also a district ranger on the Chippewa National Forest in northern Minnesota. It was at the Rocky Mountain Regional Office, where he got his beetle expertise dealing with the mountain pine beetle epidemic there. Of Kuikens beetle experience, Forest Service spokesperson Diana Fredlund says, "We're excited. It looks like he is going to be a good fit for us. Unfortunately, all of the forests that we have in the Sierras, the bark beetles have pretty well infested all of the higher areas. It's going to be an important part of his mission here and we probably haven't seen the end of them [beetles] anytime soon."
Kuiken's first day on the job is October 23 until then acting Forest Supervisor Scott Tangenberg will remain on the job. Fredlund shares that Tangenberg and Kuiken have met and both have worked on several national forest projects but not directly with each other. Tangenberg will return to his previous position as deputy forest supervisor for the Stanislaus National Forest.
Kuiken will be joined by his wife Susan, who also works for the forest service as a budget analyst, and their two boys, ages 7 and 4. Fredlund adds, "When I spoke to Supervisor Kuiken he told me he already got the family's season passes for Dodge Ridge."