Fires Continue To Burn Across Sierra Nevada Region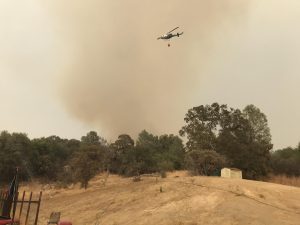 Peak Fire From Hidden Valley Road

View Photos
Here is the latest on vegetation fires burning across the greater region:
The Railroad Fire in the Sierra National Forest, near Yosemite National Park, is 11,528 acres and 35-percent contained. 872 firefighters are on scene today and full containment is anticipated by Friday, September 15.
The South Fork Fire in Yosemite, outside of Wawona, is 7,580 acres and 47-percent contained. The fire is being monitored and only 50 firefighters are still on scene. Also in Yosemite, the Empire Fire is 5,100 acres and 55-percent contained. Only 17 firefighters are assigned to the incident.
The latest figures on the Summit Complex Fire in the Stanislaus National Forest, released late yesterday, is that the fire is 3,791 acres and nine-percent contained. 115 firefighters are assigned and full containment should come by late October.
In Mariposa County, crews are mopping up the 680 acre Peak Fire that ignited this past Sunday along Indian Peak Road, nine miles outside the community of Mariposa. There are 100 firefighters on scene and 75-percent containment.
The Mission Fire in Madera County is 1,025 acres and 12-percent contained. 1,032 firefighters are assigned to the blaze, which also ignited this past Sunday, two miles east of the community of North Fork.