Woman Bites Emergency Responder While Being Rescued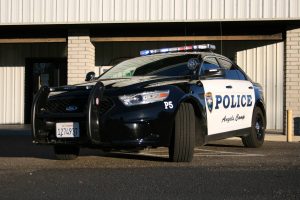 Angels Camp Police patrol car

View Photos
Angels Camp, CA – An ambulance crew member was bit while attempting to rescue a woman near Angels Creek in Angels Camp that had wedged herself between two boulders and refused police orders to come out.
Angels Camp Police officers were dispatched to the creek off of Finnegan Lane also referred to as the "Paradise" area recently for a female that was acting strangely and possibly under the influence of drugs. Once at the scene they found a 21-year-old woman about a half mile from the roadway, at the bottom of a steep ravine who had lodged herself in a crevasse between two large rocks near the creek.
Unable to sit still and while making animated, erratic movements, officers ordered her to step away from the rocks but she refused. Instead she began to repeatedly purposely hit her head on the rocks, which forced a rescue by the emergency responders, according to police. During her rescue, she attempted to bite them and actually bit one ambulance member on the thigh.
It took crews nearly two hours through heavy vegetation and rough terrain, to safely remove the women from the scene. She was flown to an area hospital for medical treatment.