Sonora Looking At Options For Von Eichel Property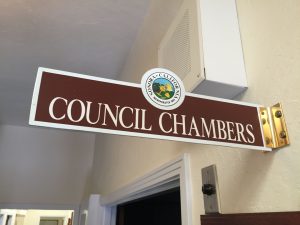 Sonora City Council Chambers

View Photos
Sonora, CA — The Sonora City Council will decide whether to gauge what type of interest there is for a 24-acre piece of property situated near the intersection of Highway 108 and Stockton Road.
A private developer had once looked into the idea of building a hotel or resort on the land, but after the plan fell through, the property was donated to the city in the mid-1990's. In an effort to raise additional city revenue, the city council will decide today whether to request ideas for the land. Those proposals could potentially be to outright purchase the property from the city, or create a beneficial public-private partnership.
The item will be discussed at tonight's meeting. In addition, there will be a final vote on an ordinance to ban camping within the city limits, a move that would notably impact the homeless population. The first reading of the ordinance passed 4-1 at a meeting in August.
The city will also appoint members to a new Homeless Task Force. Mayor Connie Williams is recommending the appointment of Jeanette Lambert as a homeless advocate, ATCAA Director Raj Rambob as an agency service provider, Interfaith Director Cathie Peacock as a charitable service member, Collette Such as a public member and Hazel Mitchell as the business member. Council members Jim Garaventa and Matt Hawkins were already tabbed for the task force.
Today's council meeting will begin at 5pm at City Hall. It is open to the public.