Mother Lode Fair Reboot Brings New Dates, Plans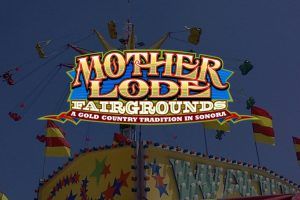 Mother Lode Fairgrounds

View Photos
Sonora, CA — Ten months from Tuesday a refashioned Mother Lode Fair will throw open its doors July 5 through 8. While it will add an extra day, the four-day total will run four hours less.
Fair CEO Ken Alstott shares with Clarke Broadcasting that input at recent public and board meetings has been invaluable and there was tremendous positivity associated with moving the dates — adding a Thursday back into the slated dates — and shortening the hours to Thursday and Friday from 5 p.m. until midnight; Saturday and Sunday from 3 p.m. until midnight.
"We understand the heat at that time of the year, so we are looking at cooling zones and different things like that. Plus starting later in the afternoon — when it is cooler — is going to make a great difference," he explains.
As reported here, the fair board was concerned that the boon of summer fairs and events might create an issue finding a new carnival vendor, since the one that had been under contract in recent years was not going to be available. "Now we are looking at two carnivals so that is going to make it more competitive, " Alstott confides, adding that one was already offering to run a special on the opening day such as a dollar-ride promotion.
While ideas from the community are still being collected and mined, Alstott says some of the ones that will be implemented include new signage and more open areas; also featuring some livestock exhibits — one of the fair's strongest attractions — upfront where it can be more readily enjoyed, such as a birthing center where newborn animals can be viewed.
He adds that a farm-to-table evening event is in the preliminary discussion stages and that the 2018 reboot will feature much more community involvement. "We are going to ask the county to sponsor an exhibit explaining the history and heritage of Tuolumne County — and we are going to go to each of the towns and cities and ask them for displays of their history and stuff, too," Alstott confides.
As for more suggestions from the public go Alstott offers this encouraging message: keep them coming to fair board members, the office and via email at info@mlfair.com