Two Arrests In Pellet, Blow Gun Shooting Incident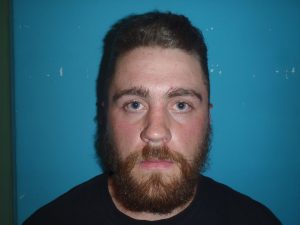 Shawn Finigan, Sonora Police Booking Photo

View Photos
Sonora, CA – Arrested in connection with the discharge of a firearm from a vehicle while traveling through downtown Sonora, two local men now face related charges.
According to Sonora police officials, in the early hours over the weekend an officer standing outside of his patrol car on South Washington Street near the Sonora Inn witnessed a black car driving by as it headed north — and heard a loud "pop" as it passed. Right about that time, the officer reported that a man standing some 100 feet south of him began to yell.
Upon investigating, the officer saw the man had suffered a welt to the hip, apparently caused by a projectile that had been launched from the passing vehicle. The officer was able to catch up with the car and made a traffic stop on it near Sonora High School. In it were four occupants, of whom two were minors, as well as 24-year-old Shawn Finigan and 18-year-old Dylan Hicks.
A vehicle search turned up two .22 rifles, a blow gun and pellet gun as well as numerous expended and unexpended casings. Police officials report that Finigan and Hicks were apparently shooting the guns and blow gun and that Finigan launched a projectile from the latter that hit the male on South Washington Street.
Finigan was booked into the Tuolumne County Jail on charges of negligent discharge of a firearm; assault with a deadly weapon; also carrying a loaded firearm in a vehicle/public place. He was later released after posting bail on a $40,000 bond. Hicks, booked on a misdemeanor charge of carrying a loaded firearm in a vehicle was also released after posting bail on a $5,000 bond.