Yosemite Shares Latest On South Fork, Empire Fires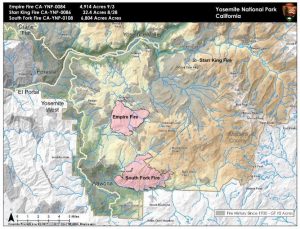 South Fork and Empire Fires Sept 4 2017

View Photos
Yosemite National Park, CA – Of the larger wildfires burning in the Yosemite Wilderness, fire officials report that the South Fork and Empire incidents showed relatively minimal activity yesterday although erratic gusty winds from thunderstorms forecast for this afternoon could change that.
The South Fork Fire, which ignited Aug. 13 and is being handled as a lightning-caused incident although it has not yet officially been classified as such, is reported at 6,804 acres with 47 percent containment. A slight decrease in acreage size is attributed to more accurate mapping. Currently 50 personnel and one helicopter are assigned to the blaze.
The most active area yesterday was reported to have occurred on the east flank where fire burned into the wilderness through scattered dense fuel pockets. Crews held fire-spread to the north along Chilnualna Creek and today are continuing to secure trail on the northern edge and patrol along portions of the fire closest to Wawona. Bucket work continues on the southern boundary. Two spot fires south of the South Fork Merced River drainage were contained and cooled with hose lays.
The following trail and area closures remain in place:  Swinging Bridge Trail on both the north and south sides of the South Fork Merced River; Chilnualna Falls Trail from Wawona Trailhead to the top of Chilnualna Falls; the two-mile connecting trail heading north from the top of Chilnualna Falls to the intersection of the Buena Vista Trail; Chilnualna Creek Trail from the top of Chilnualna Falls east to the intersection of the Buena Vista and Buck Camp trails east of Johnson Lake; Turner Meadow Trail and intersection east to Buena Vista trail; off-trail areas in the vicinity of the South Fork Fire area, including the swimming holes north of Chilnualna Creek; all climbing routes on and around Wawona Dome.
Empire Fire: Glacier Point Road May Reopen Tuesday
Originating a mile east of the Yosemite Ski and Snowboard Area and less than a mile south of Glacier Point Road, the Empire Fire, discovered July 31, was confirmed to be caused by a lightning strike.
Currently, fire officials say 45 personnel and a helicopter are assigned to the incident. The acreage, reported at 4,914 acres, increased slightly due to more accurate fire mapping and the blaze itself is considered 55 percent contained.
Glacier Point Road will reopen tomorrow if favorable conditions continue; however, temporary road closures or single lane convoys from Bridalveil Camp Ground to Mono Meadow trailhead may be implemented, if deemed necessary.
Current fire strategy is working to protect Bridalveil Campground, Yosemite Ski and Snowboard Area, Yosemite West subdivision, Wawona Road/Highway 41 and Glacier Point road. While the north, west and south flanks of the fire are reported as contained and holding, officials say that areas of new smoke may be seen as the fire cleans up areas of unburned fuel interior. The east flank is being allowed to move towards the Illilouette basin to continue to enhance forest resiliency in a fire-adapted ecosystem.
The following trail and area closures are in effect: Glacier Point Road; Bridalveil Campground and Trail; Ostrander, Alder Creek, Mono Meadow and Turner Meadow trails. All closed trailheads and junctions should be posted with trail closure orders and maps.
To view the latest fire map, click in the image box.