Mission Fire Size Estimate Remains 650 Acres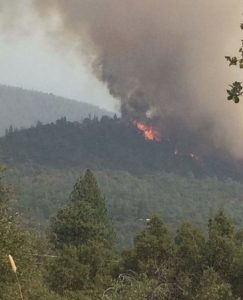 Mission Fire
North Fork, CA — This morning there are 350 firefighters assigned to an incident in Madera County that has burned into the Sierra National Forest.
The Mission Fire, near the community of Cascadel Woods, has burned 650 acres. It ignited yesterday morning about two miles east of North Fork. A larger, regional, Type 3 incident management team will take over the operations today. A mandatory evacuation order remains in place for Cascadel Woods area and an evacuation advisory has been issued for Douglas Station Road. 200 structures are considered threatened. Some structures were reportedly in the fire's path yesterday, but a damage assessment team has not been able to go into the fire area at this point, to view the impacts, due to the dangerous conditions.
A special thanks to community news partner Vivian Swiney for e-mailing video of the nerve-wracking evacuation of Cascadel Woods. It can be viewed by clicking on the video box.