Large Fires Continue To Burn In And Near Yosemite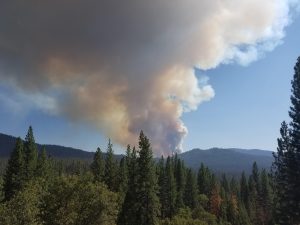 Railroad Fire Plume

View Photos
Yosemite, CA — Here is the latest update on vegetation fires burning this Labor Day weekend impacting Yosemite National Park.
The South Fork Fire is up to 7,200 acres and 47-percent contained. Yosemite officials report that the fire is holding along the flanks near the community of Wawona and fire grow has been relatively small this weekend. Only 40 firefighters remain assigned to the incident.
The Railroad Fire in the Sierra National Forest is 5,800 acres and 15% contained. Highway 41 remains closed near the fire area, so the only access to Yosemite is via Highway 120 and Highway 140. A public meeting is scheduled for 5pm this evening at the Wawona Community Center. Today the Madera County Sheriff's Office issued a new evacuation order for the Cedar Valley Subdivision because of an unexpected spot fire jumping over the line. 823 firefighters are assigned to the incident.
The Empire Fire is 4,750 acres and 55-percent contained. Fire growth has been very minimal this weekend and crews are assessing the possibility of soon re-opening Glacier Point Road.