Update: Mission Fire Burns 650 Acres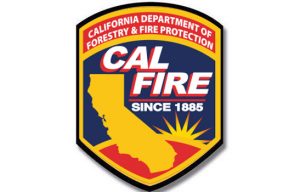 CAL Fire Logo
Update at 7:25pm: CAL Fire reports that the Mission Fire in Madera County is up to 650 acres. There are 200 structures threatened and 250 firefighters are on scene this evening. All earlier evacuation orders remain in place.
A special thanks to community news partner Vivian Swiney for submitting video taken while evacuating Cascadel Woods. You can view it by clicking on the video box.
Original story posted at 4:10pm: Nork Fork, CA — Evacuations are underway in Madera County due to a fast moving wildfire.
The CAL Fire Madera-Mariposa Unit reports the Mission Fire is burning along Mission drive, two miles northeast of the community of North Fork. The Madera County Sheriff's Office reports that an evacuation order has been issued for Mission Drive, Rainbow Drive and the Cascadel Woods area. Residents there are advised to leave immediately. Air and ground resources are on scene.
The Madera-Mariposa Unit is stretched thin this afternoon as the nearby Peak Fire also is requiring a heavy response.