Nine-Percent Containment On Summit Complex Fire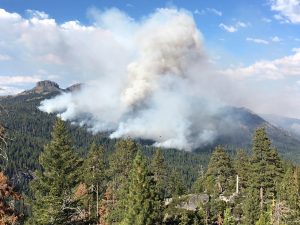 Summit Complex Fire

View Photos
Tuolumne County, CA — The Summit Complex Fire burning in the Stanislaus National Forest is estimated to be 3,791 acres.
The complex fire, which is putting off a considerable amount of drift smoke, is nine-percent contained, according to Forest Service spokesperson Michelle Carbonaro. The complex fire is three separate lightning caused incidents in the Summit Ranger District. They include the McCormick Fire (3,600 acres), the Douglas Fire (181 acres) and the Willow Fire (10 acres). The fire activity of the McCormick Fire has been especially active this weekend due to the hot temperates, low relative humidity and dry fuel moistures.
One firefighter suffered a heat related illness yesterday. The individual was taken by ambulance to a hospital and has since been treated and released.
A voluntary evacuation has been issued in conjunction with the Tuolumne County Sherriff's Office for the following locations: Clark Fork Road, Clark Fork Campground and Horsecamp, Sand Flat Campground, Camp Liahona, Camp Peaceful Pines, and all surrounding trailheads (Arnot Creek, Disaster Peak, Clark Fork). Fence Creek Road (Forest Road 6N06), Fence Creek Campground, as well as the Wheats Meadow and County Line Trailheads are also closed.
Click here to view a map of lightning fires burning in the Stanislaus National Forest