Tips For Staying Safe In The Forest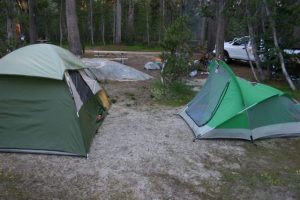 Camping tents

View Photos
Sonora, CA — Stanislaus National Forest officials are reminding visitors that a Forest Order currently bans campfires, cook stoves and smoking outside of developed campgrounds and recreation sites.
The forest service has put out a list of reminders for anyone planning to head out recreating this Labor Day weekend.
Camping:
·                     If campfires are allowed, obtain a campfire permit
·                     Campfire restrictions are in place. See more information at visitors centers
·                     Clear away grass, leaves and other debris within 5 feet of campfire or BBQ
·                     Have a responsible person in attendance at all times
·                     Ensure all campfires are completely extinguished before leaving
·                     When barbecuing, never leave the grill unattended
·                     Children near open flame should always be supervised by a responsible adult
Hazard Tree Awareness:
The Stanislaus National Forest has experienced extensive tree mortality. While a great deal of work has been accomplished, dead and dying trees remain.  Look Up, Look Down, Look Around before parking or setting up camp. Drive cautiously. Watch for road hazards, including trees that have fallen.
Traveling:
·                     Safe towing: dragging chains will throw sparks that easily ignite wildfires
·                     Be wheel safe: Check tire pressure before leaving home