Sonora Falls To Lodi In Week Two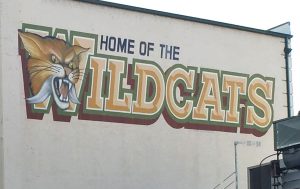 Wildcats Logo Sonora High School

View Photos
Sonora, CA — The Sonora High Wildcats dropped their second game in a row with a loss to the Lodi Flames Friday night 27-13.
The Sonora offense looked great out of the gate putting together a nice opening drive capped by Jacob Gookin keeping the ball and going seven yards for the score.
Lodi scored 14 unanswered points before the Wildcat defense was able to put points on the board on a Jack Camara fumble recovery returned 65 yards for a touchdown.
Penalties and turnovers hurt the Sonora offense at various times.
Injuries and missed tackles gave Lodi ample opportunity to move the ball into Wildcat territory setting up amazing field position for the Flames.
Next week the Wildcats travel to Ripon High.
In other action, Calaveras High defeated Escalon 28-14. Bret Harte was on a bye.
Summerville defeated Mariposa on Thursday, 28-12. Domenic Esquivles had three combined touchdowns and Luke Fulkerson added two touchdowns and an interception. The Bears start the season 2-0 and will travel to Ripon Christian next week.
-Mark Ferreira and Brandon Steele contributed to this report.