Yosemite Empire Fire Acreage Climbs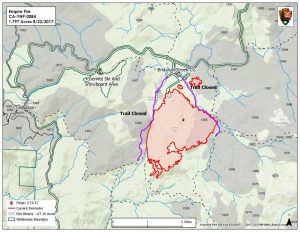 Yosemite Empire Fire

View Photos
Yosemite, CA — The lightning caused Empire Fire burning in Yosemite National Park has grown nearly another 400 acres.
The flames broke out on July 31st nearly a mile south of the Bridalveil Campground and east of Alder Creek drainage at an elevation of 7300 ft. The last report was that the flames had burnt 1,400 acres. In the past week, that number has inched up to 1,797. Park fire officials report crews have been managing the flames and allowing them to continue burning to help with both "resource and protection objectives."
The flames are burning in red fir and igniting heavy pockets of dead and down timber, which assists in reducing fuel buildup and increases forest resiliency, according to park officials, who note that the projected fire growth is expected in the northeast and southeast flanks of the fire's perimeter.
Trails stretching from Bridalveil Creek Campground at the second junction with the Ostrander trail to Westfall Meadow and the Deer Camp junction, along Alder Creek are closed. Additionally, that campground is being used by fire resources and is also off limits to the public.
The fire will be visible from the high country and may be seen from multiple viewpoints in the immediate area off Glacier Point Road including Sentinel and Washburn Points. The fire can be seen from various viewpoints off Glacier Point Road, including Sentinel and Washburn Points.