Update: High-speed Hwy 108 Chase Details Emerge, Second Suspect Still Sought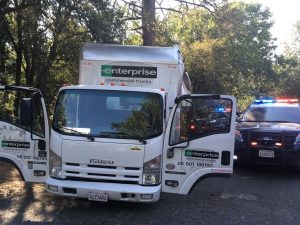 Highway 108 Road Chase Arrest Aug 22 2017

View Photos
Update at 2:45pm: Local law enforcement officials share the latest on a chase that led to the arrest of a Sonora man and continued search for a suspect who escaped on foot.
According to Tuolumne County Sheriff's spokesperson Sgt. Andrea Benson, a call initially came into the sheriff's office at 7:18 this morning stating that two men in an Enterprise box truck were trying to steal a personal water craft at a home on Stevens Court in Soulsbyville. CHP Sonora Unit spokesperson Officer Faustino Pulido adds that an earlier report came in from Lowe's in Sonora, where the truck was reported stolen last night.
Sgt. Benson reports that an alert neighbor yelled at the men, which caused them to let go of the watercraft and flee the scene. However, the responding deputy came across the truck on eastbound Highway 108 and attempted to initiate a traffic stop. The truck failed to yield and a pursuit ensued to Old Strawberry Road into Strawberry and then headed west on Highway 108 back towards Sonora. CHP officers took over the pursuit in the area of Cold Springs and the pursuit eventually terminated in the area of Golf Club Drive in Twain Harte. There, the truck passenger, 28-year-old James Tracy of Sonora was taken into custody.
Sheriff's deputies along with a department K9 assisted the CHP in the search for the driver, who has not yet been located. He is described as a white male with a shaved head wearing a fishing cap and dark clothing.
According to Officer Pulido, damage to the truck (reported in the story thread below) was sustained in a crash that occurred during the chase through Twain Harte and there was nothing in the cargo hold.
He adds that Tracy faces outstanding charges of felony possession of controlled substance for sale and failure to appear on felony charges as well as a misdemeanor count of obstructing police. Fresh charges racked up over the course of the truck theft and chase include receiving stolen property; possession of meth and of a dangerous weapon; being under the influence of a controlled substance and violation of parole.
Original Post at 9:21am.: Tuolumne County, CA — An over one-hour long, 30-mile chase in Tuolumne County that began around 8 this morning on eastbound Highway 108 near Sugar Pine that reached speeds of nearly 80 mph has ended.
CHP officers were able to box in a Enterprise rental truck at Golf Club Drive in the Twain Harte area. The cargo area was ripped open during the chase but there are not yet any details as to what caused the damage.
Tuolumne County Sheriff's Sgt. Andrea Benson reports the passenger in the truck has been arrested but the driver is on the loose with law enforcement chasing him on foot. There is no word on whether the suspect is armed but residents should use caution and call 911 if they spot any suspicious person.
The chase went all the way up to Old Strawberry Road, where the driver turned off the highway but later returned, heading west towards Twain Harte. We have a call into the CHP and they tell Clarke Broadcasting an officer on the scene will be calling us with the chase details.