Delta Kappa Gamma Fundraiser Tomorrow Night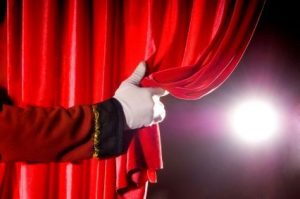 Entertainment - stage curtain

View Photos
Delta Kappa Gamma will host a preview night of Sierra Repertory Theater's "Man of La Mancha" on Thursday August 24th.
BZ Smith, Delta Kappa Gamma member, was Wednesday's KVML "Newsmaker of the Day".
"Man of La Mancha" is a Tony award-winning musical play, taking place at the Fallon House Theater in Columbia State Historic Park. The pre-show reception featuring hors d'oeuvres, sweet delicacies & wine, starts at 6 PM. The play itself begins at 7 PM.
Tickets are $30 and available at Mountain Bookshop in the Sonora Junction Shopping Center. Or order your Will Call tickets at http://dkgpreviewnightlamancha.brownpapertickets.com/.
This event is a fund raiser for DKG's local family literacy programs and future teacher scholarships. DKG will also offer a raffle of well-appointed gift baskets during the evening. Delta Kappa Gamma is an international society for women in education.
The name is a combination of the initial letters of three Greek words: ∆ιδασκαοι—Didaskotikai meaning teachers; Κλειδουχοι—Kleidouchai meaning key;and Γυναικεz­— Gynaikes meaning women. Today we use DKG. "Society" designates the international organization.
The Society is structured in three levels—local, state organization and international—all closely integrated. The local unit is called a chapter. The term "state organization" designates states, territories, provinces and comparable political divisions in countries where Delta Kappa Gamma is organized. The terms "international" and/or "Society" refer to the overall organization with the total membership. The business of the Society is conducted by the organizations on these three levels and through the relationships among them.
The Purposes set forth by the Founders continue to embody the spirit of the Society. The Purposes have grown and changed over time, but continue to be as valid in today's contemporary world as when first adopted. The Mission and Vision support the Purposes.
Mission Statement: The Delta Kappa Gamma Society International promotes professional and personal growth of women educators and excellence in education.
Vision Statement: Leading Women Educators Impacting Education Worldwide.
Delta Kappa Gamma's Seven Purposes:
1. To unite women educators of the world in a genuine spiritual fellowship
2. To honor women who have given or who evidence a potential for distinctive service in any field of education
3. To advance the professional interest and position of women in education
4. To initiate, endorse and support desirable legislation or other suitable endeavors in the interests of education and of women educators
5. To endow scholarships to aid outstanding women educators in pursuing graduate study and to grant fellowships to non-member women educators
6. To stimulate the personal and professional growth of members and to encourage their participation in appropriate programs of action
7. To inform the members of current economic, social, political and educational issues so that they may participate effectively in a world society.
Call DKG President Judy Hodges at 209.532.6132 or member Marilyn Thompson at 209.586.7488 for more information. You can also email Smith at bz@hive-arts.org with questions.
The "Newsmaker of the Day" is heard every weekday morning at 6:45, 7:45 and 8:45 on AM 1450 and FM 102.7 KVML.