Key Contract Awarded For Lake Tulloch Sewer System Project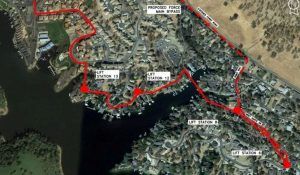 CCWD Lake Tulloch Sewer System Upgrade Area

View Photos
San Andreas, CA – Plans to upgrade Lake Tulloch area residents' outdated sewer infrastructure reached a milestone step this week.
The Calaveras County Water District (CCWD) board green-lighted a key contract for design work at its meeting this week. While Sacramento area-based Lee & Ro, Inc., which was awarded a $399,500 contract to provide design and engineering services through a competitive bid process, the district is looking to hire local firms to cover other aspects.
Design for the systemic makeover is anticipated to be complete by next August, clearing the way for CCWD to seek construction bids and lock in a contractor by next fall. It is anticipated that the project itself should be finished by early 2020.
The work scope encompasses several common replacement and improvement projects around the lake community targeting the removal of obsolete facilities for public and staff safety reasons. Specifically, it will eliminate a submerged sewer line, which currently runs through a Lake Tulloch cove in the Poker Flat neighborhood and is seen at risk of contaminating the public water supply in the event of a line break or failure.
District officials also point out that the new design will also reduce sewage flows from pumps located close to the water by redirecting them into a new pipeline that runs along O'Byrnes Ferry Road and Connor Estates Drive.
Additionally, four outdated electrical systems and sewage pumping facilities that pose safety risks to the maintenance staff will also be replaced at Lakeshore Drive, Kiva Drive, Jimmy Way and Bret Harte Drive.
Funding for the project will come from the district's adopted budget and five-year capital improvement program bucket, sourced through its renovation and replacement (R&R) program.
CCWD General Manager Dave Eggerton shares, "It's hard to find another project that has more compelling public health and safety reasons to complete. The current situation is particularly egregious with the sewer line under the lake — we can't get this done fast enough." He adds that the R&R funds are what are making the project possible, adding, "We owe our thanks to our customers for making critical projects like this possible."