McClintock Voices Support For War On Terrorism Memorial In DC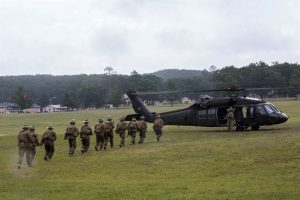 Black Hawk Helicopter Transports Marines During Training Exercise

View Photos
Washington, DC — Congressman Tom McClintock was strongly in favor of legislation that paves the way for a national memorial to be built in Washington, DC honoring those who have fought in the global war on terrorism.
The wrinkle, which prompted the bill, was that the federal Commemorative Works Act requires a war to be over for at least 10 years before planning can commence on a national monument. The rule is designed to give the country time to reflect on the historical significance of the war.
However, The Global War on Terrorism was initiated by President George W. Bush after the September 11th attack in 2001 and there is still no end in sight. McClintock says, "The Veterans that sacrificed so much to keep that war away from our shores deserve some tangible and lasting tribute to their patriotism and altruism…and the Gold Star families of our fallen heroes, for whom the war will never end, deserve some assurance that their sons or daughters will not be forgotten by a grateful nation."
House Bill 873, the Global War on Terrorism Act, calls for a temporary suspension of the Commemorative Works Act, allowing for the memorial to be constructed. It was approved by both the U.S. House and Senate in the closing days before the August recess.
McClintock, a Republican, represents the Mother Lode region.